About Us

J. Bohmann, Inc. was established in 1999 by John E. Bohmann. John is a third generation concrete/masonry worker, he grew up in and around the business. While attending The University of Wisconsin-Stout, for Construction Management, John spent his weekends and summers building block basements and pouring concrete slabs. During his last year at Stout, he bought a set of used wall forms. After graduating, he moved back home to concentrate on Bohmann Concrete full time. Since then, the company has grown in leaps and bounds. Going from seasonal help, to multiple crews traveling the Midwest for a broad range of projects. These jobs vary from large scale commercial projects, to foundations for massive log homes on area lakes.
Why Use Bohmann Concrete?
Great Reputation. Most of our work is by word of mouth or repeat customers, we have a long and loyal list of valued clientele.
Owner-operated for greater accountability. Every project receives the hands-on attention of John to ensure the job is done right.
Preplanning and Preparation. Meticulous planning, coordination and experience enable us to stay on schedule and complete your project on time.
Precise Bidding. We present our bids in a timely and professional manner, with every detail outlined to follow specifications. There are no surprises or add-on's later.
Competitive Pricing. The efficiency of our equipment and the talent of our crew allow us to produce a high quality product, on time, and at prices that are often less than local competitors.
This is all we do. We don't try to dabble in excavating, building or other trades. We concentrate mainly on concrete/masonry. This is what we do and we do it well!
Concrete Flatwork
Laser Screed Services
Poured Walls
Masonry Services
Crane Services
Spancrete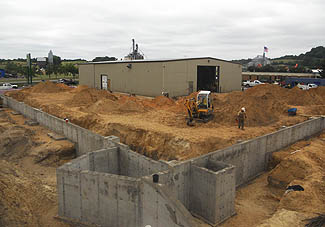 Bohmann Concrete & Masonry Business
Located in Hayward, WI

Serving the areas of Northern WI, Upper MI & MN
Satisfied Customers
Call for a complete list, including names and phone numbers, of our many satisfied customers,
both residential and commerical, who have offered us testimonials. We will even provide you with photos!